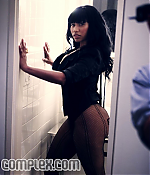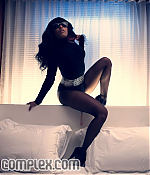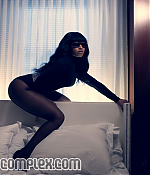 (
CLICK HERE FOR THE FULL PHOTOSHOOT IN THE 'BARBIE BOX'
)
Last week we blessed you with the futuristic shoot from our cover girl Zoe Saldana (click here if you missed it), and today we've got another exclusive from Complex's December/January issue (which officially hits stands tomorrow). Something tells us that the internets have been waiting for this one!

It's been about 10 years since a fly female rapper has come along and captured the heart of the hip-hop nation, but Young Money's Nicki Minaj is undoubtably that chick right now. With her debut album set to introduce her to the mainstream in 2010, it was a no-brainer to feature the sexy Queens native as our latest Hot Complex subject. We just put the full interview, extended gallery (featuring additional photos not seen in the magazine) and hilarious behind the scenes video online for your viewing pleasure. It's Barbie, bitch!
BEHIND THE SCENES VIDEO FOOTAGE OF THE PHOTOSHOOT
THE COMPLEX MAGAZINE INTERVIEW
You may know Nicki Minaj as that girl with the curvaceous frame that's been touring with Lil' Wayne. Maybe you've listened to one of her three mixtapes. If so, you've probably got an image of who you think she is: a potty-mouthed MC using sex to sell herself to the masses. Look harder, homie. The 24-year-old Queens, New York native may possess a gorgeous face and a body you could get lost in, but she's got more up her sleeve than diamond bracelets. With females not even part of the rap conversation these days, she's trying to make some noise and some loot. And we think she has just the right moneymaker to do it.
Complex: When people think of Nicki Minaj they envision stilettos, bustiers, and maybe a lollipop…
Nicki Minaj: This is the thing: I like being sexy when it's time to do a show, but to be honest, I hate wearing high heels, and I hate wearing anything tight. People do get taken aback when they see me in person because I'm in the jeans and the little slippers. I think it's cute when they see me transform, they see me go into my machine and come out as Nicki Minaj.

Complex: How do you transform for that special someone?
Nicki Minaj: Thigh-high boots or some real crazy pumps, some thongs, and curly hair, that's it. [Laughs.] Nothing else—nothing less, nothing more.
Complex: What is it about curly hair that makes you feel sexy?
Nicki Minaj: I feel like I'm a girl. The curly hair gives the impression that like, "Oh, I'm well-behaved," but I take the trench coat off and boom! It doesn't have to be too curly; it just looks like I did my hair.
Complex: So is romancing and seduction part of your repertoire when it comes to the bedroom?
Nicki Minaj: I don't like romancing and I don't like seduction. It's corny to me. I like role-playing, but that's not one of my characters. [Laughs.]
Complex: With all the touring you've been doing, do you have time for a boyfriend?
Nicki Minaj: I have no dating life, I can only hope and wish and imagine and fantasize. They demand too much. In life there's always going to be one thing that takes precedence, and when you're as hungry as I am you have tunnel vision. So I can't really cater to a dude right now—I love them and I think they're cute, but I can't do what they want me to do for them right now.
Complex: Sounds like you need a vacation.
Nicki Minaj: I've always wanted to go to Hawaii. I really want to go there and just lay on the beach. Then, also, I could have the other rap girls feed me fruit—since they don't have anything to do right now! [Laughs.] Strawberries, grapes, watermelon, and pineapple. I so know that part is going to make the interview.
Complex: Pull quote